People & Power – Secrets and children
Documentary by a friend investigating allegations of neglect in Ireland's childcare system. Some HSE staff took big risks taking part in the interviews but it may never air or get seen by a wide audience, so please pass on if you can.
http://www.youtube.com/watch?v=W5oHCSaHcek
Images of the day
I might have uttered similar mutterings before; people always talk about blogs in terms of the quality of writing and other such piffle that we won't bother ourselves with today. A lot of my favourite blogs contain few words, and lot's of other cool media, mostly photos and images but often videos and bits and pieces. I see some great images every day. Here's a few great ones that popped in to my feed reader just in the last day or so. And funnily enough, not one of them is from the many great photoblogs I'm subscribed to.
Freedom

source Laura Byrne / Joe Coleman

source Three word phrase

source A US soldier patrols in a pomegranate orchard in Afghanistan

source Shadow Kissing

source Slurp

source Wet 'n' Wild

source My son James

source *Not listening*

source The pain of watching non geeks use a computer…

HIP HOP
HIP HOP. Is there anything like it for sheer bloody awesomeness? For all the fantastic things it's given us? Every day I worship at the altar of Hip hop in some small part. There's no other musical culture that comes close to it in everything amazing stuff it's coughed out of its guts. People missed the second coming. It wasn't Jesus. It was the holy trinity of Kool Herc, Grandmaster Flash and Afrika Bambaattaa. You've just got to stand back and look at it now and then and go wow. Well I do. Apart from the music itself, the list of absolutely amazing things that just keep developing from it's roots more than 30 years later is staggering; turntablism, beatboxing, breakdancing, rap battles, graffiti. And all of these still developing and splitting of into other wonderful things.
I don't think there's been a movie to catch the vibe of it all since WILDSTYLE. I've heard people say it's a rubbish movie but that would be completely missing the point, the acting is rubbish but it's an amazing documentary.
There. I just wanted to say that. HIP HOP is fucking amazing. And I vote for Beardyman as president of the world. Here's a youtube playlist I just put together showcasing a mere fraction of it's awesomeness.
Cuimhnigh an bainne
Remember the milk for Irish phones….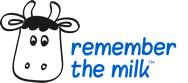 I think this is pretty cool; you can connect Remember The Milk(RTM) and Twitter to your phone so that you can use Twitter or a text to send tasks to RTM. And then RTM will send you a text and an email reminding you to do things at a certain time.
I've been using remember the milk for a while now. I really needed a to-do list / task reminder that could really grab my attention and is also very easy to update. A lot of task apps that sit on my desktop just become invisible to me very quickly. As do gmail tasks. But the fact that RTM can send you texts really grabbed my attention and comes highly recommended but only when its hooked up with your phone is it a really powerful task reminder.
But it mostly only supports mobile networks in the US and other countries – but not Ireland. I've been checking back every now and then to see if they support Irish mobiles yet and they still don't. But there's a great way around it;
First you follow a special Twitter account http://twitter.com/rtm so that task reminders are sent to your Twitter account.
Then you set up Twitter so that it sends you texts when you get a new tweet. Lots of people do that anyway but if you're like me and use the mobile version of Twitter on your phone then, like me, you've probably never bothered getting Twitter as texts. So I just turned off phone updates from everyone I follow except @rtm.
So now I can send @rtm a direct message like "take the bread out of the oven at 2:45pm" (I actually left bread in the oven for 2 hours longer than I should have yesterday. Dough!) And at 2:45 I'll get a text and an email telling me to take the bread out of the oven. No more burnt bread! And I could have set that task up quickly from tweetdeck, from a text, or from the RTM site. And that's all with the free version of RTM.
There's more on twitter and rtm here: http://www.rememberthemilk.com/services/twitter/ . I gotta go RTM just sent me a text reminding me to record some of the Shane Meadows season on Film4.
DJ Bass video mashup
Remember the legendary DJ Bass from the Dublin Funk Collective way way back? He's living in Las Vegas these days but here's a recent video mashup he did. Good to see he's still at it to some degree. Black eyed peas never sounded better!
Speaking of DJing, when I was moving recently I ended up rooting through my box of tapes from the attic and recorded/uploaded a few of mine. Might record upload other DJ's at some stage. Here's my 3:
April '96 – lot's of Detroit stuff, and non-banging techno
www.4shared.com/audio/0RRBfdIS/April_96.html
KissFM mix – Mix done for Keith Downey's Pscyhonavigation show – quite chilled abstract techno / IDM / whatever you call it thee days
www.4shared.com/audio/BfuhjdVT/JohnBraine-KissFMmix.html
Al's party – bit rough and ready, was just recorded at a friends party some night.
www.4shared.com/audio/E1EY_sER/als_party.html
Recorded lots more but the quality was quite shit.
Paranormal Activity
Wow. Just watched Paranormal Activity and found it genuinely scary. First time in years I can remember being scared by a horror. I even found myself getting anxious and short of breath every time a night time scene started.
To a large extent, horrors just stopped being scary for me after I had stopped believing in absolutely anything supernatural, including God and The Devil and many underlying notions of that type that give horrors some grounding. I heard mixed feelings about it on the Kermode podcast with some people finding it really scary and others who didn't.
I've only seen the trailer below for the first time which probably builds it up a bit too much. But it really hit a bone with me for some reason. Maybe it helps to watch it on your own in the dark in the right frame of mind. That shaky camera stuff really works for me too. If you found Blair Witch at all scary, you'll get a kick out of this.
Currently Reading